Market-leading DGA sensitivity and accuracy
Avoid what could become a costly transformer failure by choosing our new generation of multi-gas on-line monitors. The Calisto 5 is a powerful tool for transformer condition assessment. This generation of Calistos uses gas chromatography with proven reliable results.This is a physical method of separation in which the components to be separated are distributed between two phases, one of which is stationary (stationary phase) while the other moves in a definite direction (mobile phase).
5 Fault Gases + Moisture Diagnostic Monitor
Calisto Diagnostic Monitors: Calisto 5 and Calisto 9
Features
Additional measurement of Duval Triangle gases
Acetylene measurement from 0.2 ppm
Automated self-calibration using certified primary grade gas\
Intuitive front-panel display interface
Built-in oil circulation and flow monitoring
Continuous enclosure and oil conditioning
Communication protocols: DNP3, Modbus, IEC 61850 (optional)
Vacuum tolerant
Substation hardened communication electronics
Built-in moisture and solubility coefficients for all common insulating fluids
Benefits
Identify arcing at the earliest onset
Add continuous Duval Triangle diagnosis to incipient fault detection
Ensure concurrence with laboratory data (short-term and long-term)
View data and monitor status on-site without tools or computers
Low ownership cost
CALISTO ONLINE DGA MODELS
Calisto online DGA monitors for power transformers and other oil-filled electrical assets
Calisto detection monitors:
Calisto
Hydrogen + moisture

Calisto is an online DGA detection monitor that provides precise and accurate hydrogen and moisture readings with unequalled stability at low concentration levels. Detect and monitor incipient faults using interference–free hydrogen readings. Correlate moisture behavior with load while monitoring long-term trends.

Calisto 2
Hydrogen, moisture + carbon monoxide

Calisto 2 is an online DGA detection monitor that provides additional measurement of dissolved carbon monoxide, combining early fault detection (hydrogen) and cellulose degradation monitoring. Carbon monoxide is a gas often generated in large quantities when transformer cellulose overheats.
Calisto diagnostic monitors:
Calisto 5
5 fault gases + moisture

Calisto 5 is a multi-gas online DGA diagnostic monitor for the measurement of five Duval Triangle gases through a proprietary chromatographic method.

Calisto 9
Complete DGA + moisture

Calisto 9 is a multi-gas online DGA diagnostic monitor that measures all seven fault gases plus oxygen and nitrogen with industry-leading detection limits.
Comparison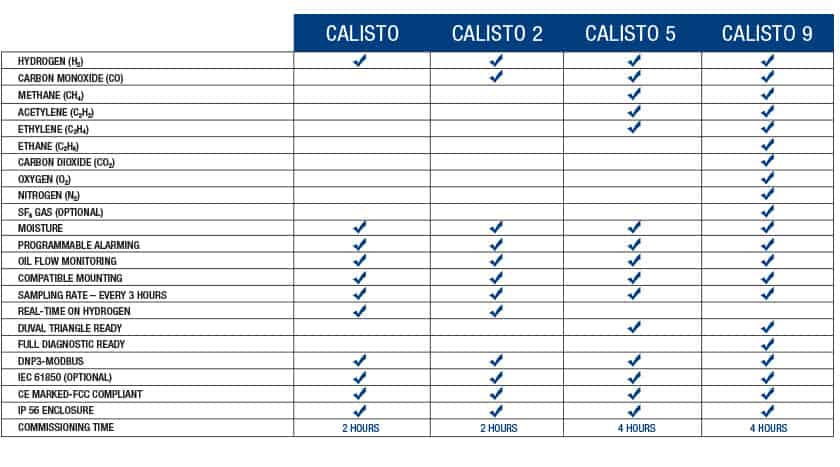 Brochures/Technical Specs
Articles
Links
If you need a copy of our Conflict Minerals Policy, please contact us.
ALL CALISTO ONLINE DGA MONITORS