Market-leading DGA sensitivity and accuracy
The Calisto® 9 online DGA monitor provides the data you need for early detection and diagnosis of impending failures, cost-efficient condition-based maintenance and optimal loading decisions.
Accuracy By Design
Features best-in-market accuracy bench-marked by clients, laboratories, and industry working groups — ensuring the reliability of the DGA results they provide.
Early Detection
Market-leading lower detection limits and a very broad measurement range ensure that you are getting all the information needed to detect and diagnose faults as early as possible.
Easy Deployment
Supplied with DNP3, Modbus and optional IEC 61850 communication protocols for easy deployment within existing communications and SCADA networks.
Fits Your Monitoring Program
Designed to fit your monitoring program, it can operate as a standalone DGA monitor or as part of the Doble Calisto Condition Monitoring Platform.
Complete DGA + Moisture Diagnostic Monitor
Calisto Diagnostic Monitors: Calisto 5 and Calisto 9
Features
Gas chromatography (GC) technology for precise and accurate readings
Built-in moisture and solubility coefficients for all common insulating fluids
Proprietary Doble | Morgan Schaffer cell and chromatographic method
Enhanced self-diagnostics
Vacuum tolerant
Enclosure temperature and oil temperature conditioning
Factory-installed carrier gas manifold for trouble free start-up and convenience
Built-in oil circulation and flow monitoring
Communication protocols: Modbus, DNP3, optional IEC 61850
Substation hardened communication electronics
Benefits
Early detection of impending failures
Cost-efficient condition-based maintenance
Easy installation and integration within existing operations
Easily upgrade between detection and diagnostic models for optimal fleet deployment strategies
Virtually maintenance-free: annual visual inspection
More than 15 years of expected useful operating life
30 months standard warranty on all Calisto products
Fully functional even in the harshest environments
Use as a standalone product, networked to existing SCADA system, or as part of a Calisto Condition Monitoring Platform
Calisto online DGA monitors for power transformers and other oil-filled electrical assets
Calisto detection monitors:
Calisto
Hydrogen + moisture

Calisto is an online DGA detection monitor that provides precise and accurate hydrogen and moisture readings with unequalled stability at low concentration levels. Detect and monitor incipient faults using interference–free hydrogen readings. Correlate moisture behavior with load while monitoring long-term trends.

Calisto 2
Hydrogen, moisture + carbon monoxide

Calisto 2 is an online DGA detection monitor that provides additional measurement of dissolved carbon monoxide, combining early fault detection (hydrogen) and cellulose degradation monitoring. Carbon monoxide is a gas often generated in large quantities when transformer cellulose overheats.
Calisto diagnostic monitors:
Calisto 5
5 fault gases + moisture

Calisto 5 is a multi-gas online DGA diagnostic monitor for the measurement of five Duval Triangle gases through a proprietary chromatographic method.

Calisto 9
Complete DGA + moisture

Calisto 9 is a multi-gas online DGA diagnostic monitor that measures all seven fault gases plus oxygen and nitrogen with industry-leading detection limits.
Comparison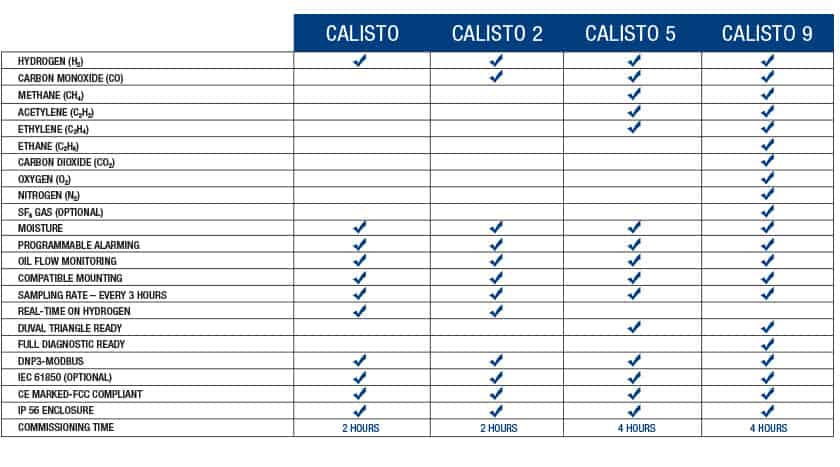 Brochures/Technical Specs
Articles
Links
If you need a copy of our Conflict Minerals Policy, please contact us.
ALL CALISTO ONLINE DGA MONITORS